Cooking utensils: Apple-peeler
---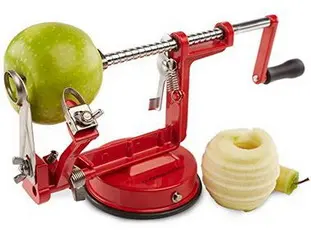 Apple-peeler
Here is a tool that I was sure was just some dumb gadget before my friends Eric and Pascale gave me one! It's an extraordinary tool that peels and removes the core of an apple in less than 10 seconds. The chore of peeling/removing the core is now a thing of the past, and making apple tart or cake becomes a real pleasure.

The only small criticism that could be made is that it is not fully stainless, so you must dry it carefully after washing.
If you intend to buy:
Get a stainless one, with a suction pad to fix it onto your work surface.
Last modified on: September 18th 2022