Cooking utensils: Blender
Blender
A blender consists of a sort of "propellor" or knife blade, driven by an electrc motor.
Ideal for transforming a lumpy mixture into something smooth and homogenized.
There are two kinds: classic blenders with a goblet into which one pours the substance to be blended, and hand blenders which are cheaper and more practical, which can be plunged directly into a bowl or pan.
If you intend to buy:
Choose the hand blender if possible, with a power rating of at least 400 Watts, with a sharp blade. It is useful to be able to take the blender apart for cleaning.
On the other hand, having lots of different speeds serves no real purpose.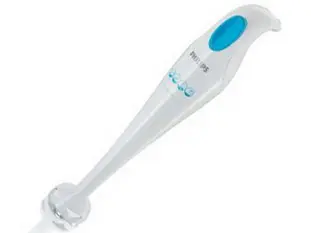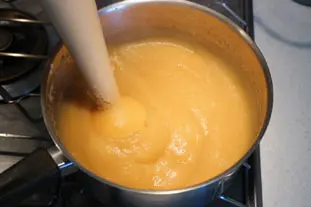 Post your comment or question
You are welcome, if you wish, to comment on this page: why you like it or not, what you have changed, what results it gave, point out a mistake or omission, etc. You can also ask a question. I answer all questions (in a broken English, sorry) unless someone else does it before me.
Please feel free to say what you think, I'm always very interested in your opinion. Your comment will appear on line with the page, so please write in standard readable English, not SIM or only in CAPITALS, otherwise your comment may be rejected.
Please look at advice for submitting a comment or image (what you should or should not do). By the way, don't type your e-mail address in the comment, otherwise you might be spammed.