Brioche for a savoury recipe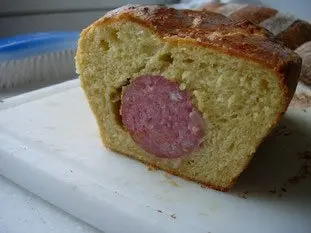 Of course, if you like sweet and salty dishes, you're probably thinking "Yes, so what?" No problem, we take the classic
brioche dough
(sweet) and we form the brioche that will contain the sausage. The saltiness of the sausage goes very well with the sweetness of the brioche. I agree.
On the other hand, if you don't like this sweet and salty side, like me for example, you won't like it too much: OK, the softness of the brioche is there, but the honey-sweet side, with the sausage, is not so good...
Well, the best thing to do in this case would be to make brioche dough without sugar, to have a kind of salted brioche, more in agreement with the sausage.
It's tempting, but it would be a mistake, because without sugar the brioche still puffs up, but less well, and especially it doesn't color, despite the gilding. In other words, you will have a whitish brioche, not bad either, but not very appetizing.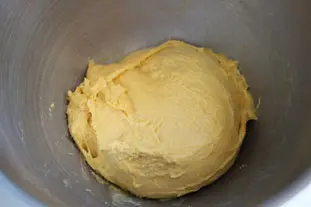 What to do then?

You have to cut the pear in 2 and put "half-sugar", that is to say that you look at the dose of sugar that
your recipe
foresees, let's imagine 100 gr, you divide this weight by 2 and it's only these 50 gr that you use in your recipe. In this way your brioche will puff up and brown well, but its taste will be in keeping with the salty part you were planning, the sugar being almost "invisible".
To sum up:
For a brioche recipe in a savoury dish, divide the initial sugar weight by 2.