The blog of cooking-ez.com
Cream and sauces
Have you ever wondered why making beautiful tasty
sauces
is so easy when you use cream?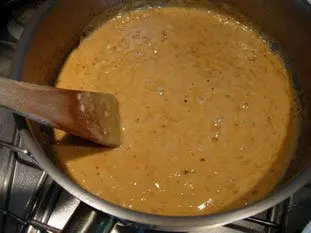 First of all, we need to be aware that some flavours only dissolve in water, while others only dissolve in fats.
This phenomenon leads to this kind of accident: If you put a
chocolate mousse
uncovered in the fridge where you are also keeping fish, the chocolate, being mostly made up of cocoa butter (a fat), will absorb the fish smell. Imagine the taste…
So we have water on the one side and fats on the other. Cream seen under the microscope is made up of water with minute fat globules (which come from milk) suspended in it.
This gives us the explanation: the make up of cream allows it to absorb both types of flavours, so it can absorb virtually all flavours. This means that cream produces sauces which are always full of flavour drawn from everything around it (whatever is stuck on the bottom of the pan, the ingredients in the recipe, etc.).
Add to this that during cooking a proportion of the cream will evaporate, and this means that it will thicken and give a rich smooth texture in the mouth – perfect!
And then there's the question of all those calories, but that's quite another matter…
Last modified on: October 15th 2012
Post a comment or question:
You are welcome, if you wish, to comment on this page: why you like it or not, what you have changed, what results it gave, point out a mistake or omission, etc. You can also ask a question. I answer all questions (in a broken English, sorry) unless someone else does it before me.
Please feel free to say what you think, I'm always very interested in your opinion. Your comment will appear on line with the page, so please write in standard readable English, not SIM or only in CAPITALS, otherwise your comment may be rejected.
Please look at advice for submitting a comment or image (what you should or should not do). By the way, don't type your e-mail address in the comment, otherwise you might be spammed.
Follow this page
If you are interested in this page, you can "follow" it, by entering your email address here. You will then receive a notification immediately each time the page is modified or a new comment is added.