Double cooking of vegetables
Add to all this that, in addition, it is difficult to generalize, that is to say that for such and such a vegetable it is better to do like this while for others it is better to do like that.
Insoluble?
No, not exactly, in fact there is a method that gives very good results for almost all vegetables, it is the double cooking.
How does it work?
The general principle is that we cook a first time in boiling salted water (cooking called
"A l'anglaise
", by the French), then a second cooking with a little fat,
butter
or
oil
for example according to your taste. This double cooking, even if it is a little longer, is the quasi insurance of a taste of the vegetable revealed and preserved.
But rather than discuss it, I'll take an example with Brussels sprouts, which are tasty vegetables (but that it is easy to completely mess them up by overcooking them, like at the canteen when you were little).
The double cooking of Brussels sprouts
1) Peel and wash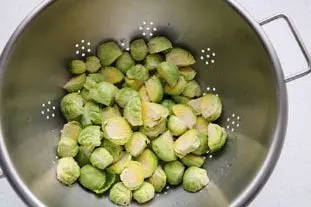 Peel, cut in 4 if the cabbages are big to have pieces not bigger than a sugar cube, and wash with water.
2) First cooking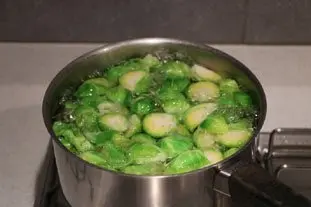 The cabbages are plunged into a large volume of salted water (1 tablespoon of coarse salt per litre of water), and cooked until they are tender, but not melting, it is very important
3) Cool quickly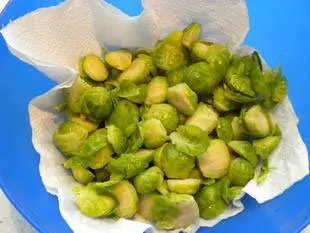 Remove the cabbages from the cooking water with a
skimmer
and plunge them into very cold water, to stop cooking immediately, then drain carefully.
Note that the cooking water at this point is no longer simple salt water, it is already starting to be a vegetable broth, and you
should keep it
in the fridge after cooling, for other cooking of other vegetables.
4) Second cooking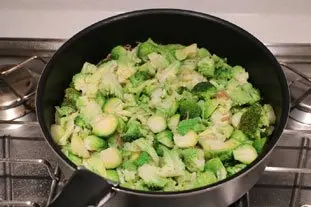 In a saucepan or a frying pan, heat a large knob of butter or a little olive oil, once hot, add a finely chopped
shallot
, salt and pepper and cook for 1 minute,
without colouring
. Then add the vegetables, well drained, and cook for 2 or 3 minutes, hardly more. Serve immediately.
If you don't know, or have never practiced, you might be very surprised by the delicate taste of the vegetables treated this way. Making for example a dish with 3 or 4 different vegetables, in season, with this method, will give you a rather simple dish, just vegetables, but also exceptional in taste and finesse.
Some more info-
For an even more delicate taste, use instead of boiling water, a
vegetable
or poultry
stock
.
- For the seasoning, just salt and pepper you have seen, but some finesse is quite possible, like a little fleur de sel just before serving, or a sophisticated pepper.
- Obviously, and as always, it is much better with seasonal vegetables.
To sum up
: The next time you have vegetables to cook, try the double cooking, boiling salted water, then pass in shallot, or onion, sautéed in butter or olive oil.