Let's rehabilitate the burger
---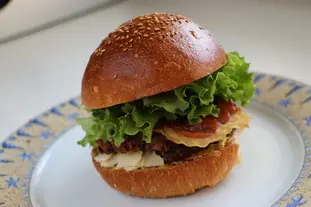 The burger is a sandwich that is very fashionable at the moment, and as for all other sandwiches, the worst (often) rubs shoulders with the best (much more rare).

In principle, I'm probably not teaching you anything, it's a sandwich made of a small round bun, rather soft, like a sandwich bread, the bun, which is filled with a small grilled ground beef steak and various vegetables (tomatoes, onions, salad,...).

The whole point of the burger is the delicious contrast between the grilled meat and the crunchy vegetables in the bun.
Last modified on: April 10th 2021
Keywords for this post:
Burger
Sandwich
Hamburger
American
Meat
Salad
Bread
Bun