List of recipes using Raisins:
3 recipes

(gluten free)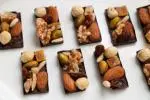 Mendiants are made with a thin layer of chocolate, stuck with toasted nuts, dried and candied fruit.
986 1 hour 2 min.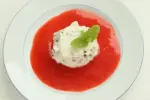 Impress your guests with this delightful dessert, a smooth mixture of meringue and dried fruit, which can easily be prepared several days beforehand.
82,509
4.5/5 for 2 ratings 1 hour 28 min.

Used straight from the packet raisins are too dry and hard.
34,751
4.1/5 for 16 ratings 36 min.