List of recipes using Raisins:
5 recipes

(lactose free)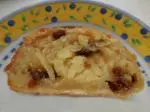 Apple strudel is a traditional pastry from central Europe. It is like a large apple turnover, usually served in slices. Here is a version with apples, walnuts, almonds and rum-soaked raisins.
10,609
5/5 for 2 ratings 1 hour 32 min.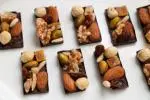 Mendiants are made with a thin layer of chocolate, stuck with toasted nuts, dried and candied fruit.
988 1 hour 2 min.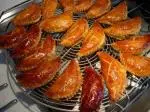 These are small apple turnovers ("chaussons") of puff pastry, filled with a mixture of caramelised almonds, stewed apple and rum-soaked raisins. To be eaten just as they are...
79,390
3.8/5 for 17 ratings 1 hour 31 min.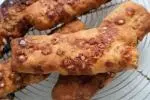 This curious name (explained below) applies to a small bread fingers made with a blend of wheat and rye flour, enriched with raisins and almonds.
4,562 4 hours 32 min.

Used straight from the packet raisins are too dry and hard.
34,754
4.1/5 for 16 ratings 36 min.