List of recipes using Cooked prawns:
3 recipes

(alcohol-free)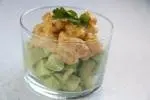 Just a classic prawn cocktail with avocado? Oh, no! The prawns in this recipe are sautéed briefly to enhance the flavour, then mixed with a curry mayonnaise.
7,499
4.3/5 for 15 ratings 30 min.

A very refreshing starter, containing prawns and smoked fish.
76,784
5/5 for 1 ratings 54 min.

These look like perfectly normal boiled eggs, but when the shell is cracked open - surprise! They contain a mixture of scrambled egg, cured ham, fried prawns and chives.
48,499
5/5 for 13 ratings 51 min.