List of recipes using Orange:
5 recipes

(gluten free)

The trick of this recipe is to end up with bananas caramelised on the outside, still firm on the inside, coated with a tasty syrup which is not 95% butter.
74,027 1
4/5 for 1 ratings 40 min.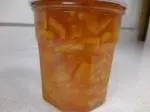 Just oranges (organic) and sugar in this simplified marmalade recipe.
12,156
3.9/5 for 17 ratings 1 hour 11 min.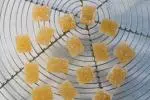 This traditional French "pâte de fruit" (fruit paste or leather) has a distinctive, firm consistency and is full of flavour, with the characteristic tang of quince. The preparation is rather long, but the result is well worth all the effort.
4,338
1/5 for 1 ratings 2 hours 3 min.

Pear halves sautéed in butter and sugar served with real custard (crème anglaise) and a reduced blood-orange syrup.
48,388
3.7/5 for 11 ratings 1 hour 4 min.

If it's cold or you're in the snow, you will appreciate mulled wine which warms body and soul... There are as many mulled wine recipes as ski runs, so here is a basic one that you can easily adapt to your taste.
76,402 1
4/5 for 1 ratings 1 hour 32 min.