List of recipes using Balsamic vinegar:
4 recipes
List of recipes using Balsamic vinegar

In this colourful terrine, layers of avocado alternate with smoked salmon and diced tomato in balsamic vinegar.
149K
5
4 hours 7 min. April 10
th
2011

A salad that combines crunchy almonds, tender broad beans, with the flavours of balsamic vinegar, parmesan and herbs.
245K
3.8
35 min. February 21
th
2011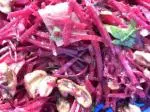 This is a very simple salad. It contains raw beetroot (of course), but also walnuts, parmesan shavings and a vinaigrette made with balsamic vinegar.
124K
4.1
31 min. November 2
nd
2015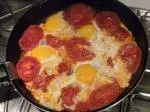 In this recipe, thick slices of tomato are cooked first, then the eggs are left to cook gently in the spaces between them. Particularly delicious served simply with a trickle of balsamic vinegar.
61K
4.8
31 min. November 27
th
2013