List of recipes using Artichoke heart:
3 recipes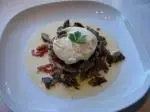 This recipe is not very complicated, but does involve some work: an artichoke heart with a layer of mushroom duxelle, a layer of fried bacon, topped with a poached egg and cream sauce. Everything can be prepared in advance (the day before for example), but the final assembly should be done just...
77,764
5/5 for 1 ratings 2 hours 11 min.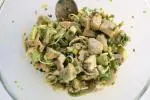 This fairly simple recipe combines slices of avocado, spring onions, diced chicken and artichoke hearts in a good vinaigrette dressing.
224 23 min.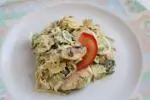 A mixed salad (avocado, artichokes, mushrooms and tuna) in a classic mayonnaise, but pepped up with a good dose of curry.
2,383 30 min.