List of recipes using Meatballs:
3 recipes
List of recipes using Meatballs

Meat balls in a tasty tomato sauce with herbs and white wine.
186K
5
30 min. February 28
th
2012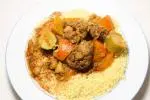 In couscous, the meat and vegetable mixture is rather long to cook, but not difficult. And the couscous itself (a kind of coarse semolina) is simple and quick to prepare.
442K
4.3
2 hours 36 min. November 16
th
2017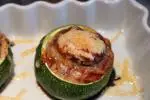 This is a relatively rapid way to prepare stuffed courgettes, using ready-made items that you can take out of the fridge or freezer at the last minute (or nearly).
24K
4.4
1 hour 6 min. September 17
th
2017