List of recipes using Noilly:
5 recipes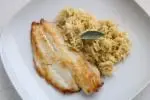 In this recipe, finely shredded cabbage is braised rapidly, then finished with Noilly Prat and a little cream. This is served to accompany a simple but delicious pan-fried fillet of fish.
17K
2
44 min. February 7
th
2021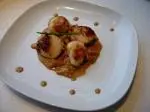 The chanterelles are fried first briefly, then the scallops fried in the same pan. The pan is deglazed with Noilly to make a delicious cream sauce.
211K
4.5
1 hour 6 min. November 28
th
2010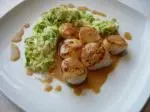 Pan-fried scallops in a sauce of their juices deglazed with a little Noilly Prat, served with a julienne of blanched cabbage in cream.
116K
4.6
1 hour 21 min. December 31
th
2013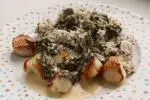 Sorrel is often used with salmon, and very successfully, but it goes very well with scallops in this recipe, given a boost with Noilly Prat vermouth.
11K
43 min. November 24
th
2021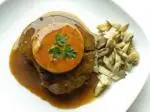 Tournedos Rossini is a very chic recipe, allegedly inspired by the famous composer. It consists of fried fillet steak, served on buttered toast, topped with a slice of foie gras and a delicious sauce made by deglazing the cooking pan with port or Noilly Prat.
317K
3
3.7
46 min. August 26
th
2021