List of recipes using Instant mashed-potato powder:
5 recipes
List of recipes using Instant mashed-potato powder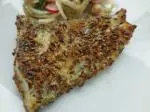 Fish fillets coated with a mixture of breadcrumbs and seeds, then fried.
60K
4.2
30 min. June 1
st
2014

In this recipe, instant mashed potato powder is used to give an original crusty coating to the chicken breasts. These are fried and served with peas.
104K
4.8
1 hour 3 min. August 26
th
2012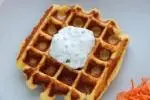 For potato waffles, the flour in the mixture for the sweet version is replaced with instant dried potato. This is a way of making delicious savoury waffles. Adding ribbons of smoked salmon, like here, turns them into a proper meal, though they can be also be served as an accompaniment.
37K
4.5
39 min. April 22
th
2018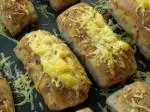 These are small, bite-sized, soft bread rolls made with bacon bits and topped with grated cheese.
97K
4
2 hours 31 min. October 24
th
2017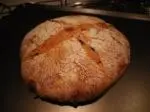 Foccacia is an open-textured Italian bread. The French sometimes refer to it as the Italian fougasse. This version is made with preserved tomatoes, green olives and parmesan.
59K
4.3
4 hours 53 min. October 24
th
2017