List of recipes using Green olives:
5 recipes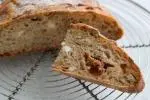 This Cretan (or Cretan-style) bread has a soft dough, enriched with olive oil, preserved tomatoes, green olives and cooked onions.
10,787
4.3/5 for 15 ratings 4 hours 26 min.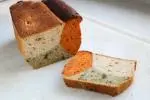 This loaf for "the girls" in three colours is made by putting together three doughs, each with a different flavour: tomato for the red, pesto with olives for the green and onion for the white. The three different doughs fuse as they rise together in the tin before cooking, to produce an unusual...
5,788
4.6/5 for 14 ratings 4 hours 6 min.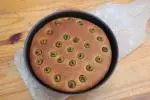 This bread with olives and pesto has a very Italian flavour: a ciabatta dough, herbes de Provence and green olives. The loaf is baked in a tin, with a thin layer of pesto spread in the middle between two pieces of dough, and green olives (with stones removed) pressed into the top.
5,917
3.8/5 for 20 ratings 3 hours 57 min.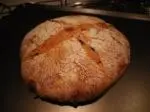 Foccacia is an open-textured Italian bread. The French sometimes refer to it as the Italian fougasse. This version is made with preserved tomatoes, green olives and parmesan.
14,740
4.3/5 for 15 ratings 4 hours 53 min.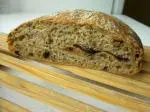 Enjoy the real flavour and scent of the Mediterranean in this ciabatta made with two olives (green and black).
26,903
4.3/5 for 15 ratings 4 hours 12 min.