List of recipes using Brandy (Cognac or Armagnac):
5 recipes

(without meat)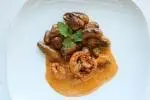 The langoustines in this recipe are cooked in two stages: boiled briefly in salted water, then sautéed before being spiced and flambéed in cognac. They are served here with a creamy sauce and potato grenaille.
5,766
5/5 for 13 ratings 1 hour 9 min.

In this recipe, the lobster are cooked first in a court bouillon (stock), then the flesh is removed and cut into small pieces before being cooked with the cream and alcohol. The dish is browned in the oven to finish.
37,323 1
4.7/5 for 18 ratings 35 min.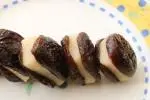 Stuffed prunes are a sweetmeat made with halved dried prunes sandwiched together around a morsel of marzipan flavoured with Armagnac.
3,747 20 min.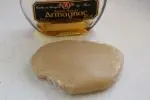 Almost the same as plain marzipan, but this almond paste is flavoured with a hint of Armagnac or Cognac.
3,617 9 min.

Cocktail sauce is a spicy mayonnaise with cognac, Tabasco and concentrated tomato paste (or purée) added.
62,958
4/5 for 19 ratings 9 min.