List of recipes using Apple juice:
4 recipes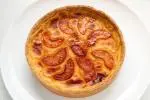 You may well know the classic Parisian custard tart (or "flan"), traditionally vanilla-flavoured. Here is an apple version, with extra apple flavour as the custard is made with apple juice. This is topped with delicious caramelized apple slices.
701 2 hours 37 min.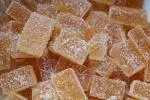 Apple paste, like most other fruit pastes, is a simple mixture of apple juice, sugar and a gelling agent - pectin here.
2,621
5/5 for 1 ratings 10 days 48 min.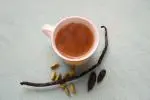 This very simple recipe will give you a warming drink with an amazing flavour of apples and spices. Just the thing to serve to your guests as a "trou normand" (traditionally a small glass of calvados served between courses), or to round off a meal with the dessert.
1,077 1 hour 18 min.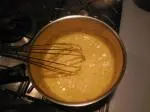 For this strongly apple-flavoured version of confectioner's custard (crème pâtissière, or french pastry cream), apple juice is used instead of milk and the quantity of sugar is reduced.
14,179
4.6/5 for 11 ratings 21 min.