List of recipes using Red cabbage:
3 recipes

(lactose free)

List of recipes using Red cabbage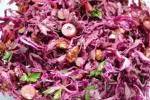 This salad has a lovely crunch to it: not just the red cabbage, but also from thinly sliced radishes and toasted almonds.
19K
28 min. May 26
th
2019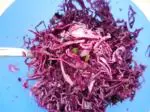 This simple winter salad recipe combines red cabbage with spring onions (or chives) in a good vinaigrette.
48K
5
20 min. February 18
th
2015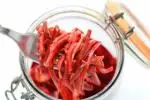 This mixed pickle is made with a variety of vegetables left to mature for 2 weeks in diluted vinegar. The result is similar to gherkins and can be added to lots of recipes, or eaten with a snack or sandwich. This red version gets its name from beetroot and red cabbage, which eventually colour...
17K
1 hour 29 min. April 29
th
2020