Red mixed pickle
---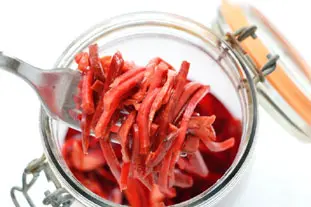 This mixed pickle is made with a variety of vegetables left to mature for 2 weeks in diluted vinegar.

The result is similar to gherkins and can be added to lots of recipes, or eaten with a snack or sandwich.
This red version gets its name from beetroot and red cabbage, which eventually colour everything else in the jar.
Last modified on: April 29th 2020
Keywords for this recipe:
Vegetables
Vinegar
Pickles
Spices