The secret of cooking until "done"
Here we have a problem: the chef's eye (so they say) is only acquired after many years of experience, so it's unlikely that you or I will ever have it! So are our eyes only good for shedding a regretful tear? No – we can dry our eyes and let technology come to the rescue: for food to be cooked just right is simply a matter of temperature. In other words, fish will be perfectly cooked when the temperature in the centre of the fillet reaches 65-70°C (149-158°F).
Measure
Here's the trick: first cook the fish on one side (salted and peppered beforehand). When it looks sufficiently fried or grilled, turn it over and stick an
electronic thermometer
into the centre.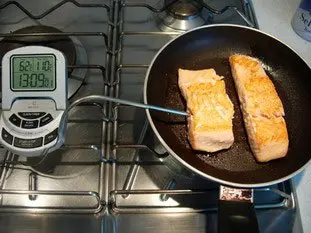 Leave to rest
As soon as the temperature shown reaches 65°C (149°F), remove the fish from the heat, transfer onto a
hot plate
and cover with
aluminium foil
. If you leave the thermometer in, you will see that even away from the heat source, the temperature will continue to rise by a few more degrees until it reaches around 70°C (158°F), so the fish will still be cooking.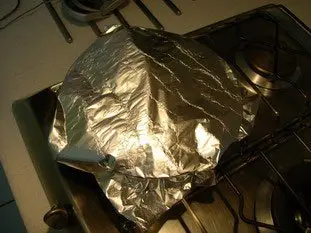 This resting time also allows the juices which have flowed towards the outside to be reabsorbed into the flesh, giving you the tenderest and tastiest fish ever!
You may well be surprised at just how little time it takes to reach this temperature. You will no doubt find that you tended to overcook fish before.
2 observations:
- Certain electronic thermometers are fitted with an alarm which beeps at the chosen temperature, which is very useful.
- You will no doubt see other temperatures, less than 65°C, stated elsewhere. This is a matter of taste.
What about meat?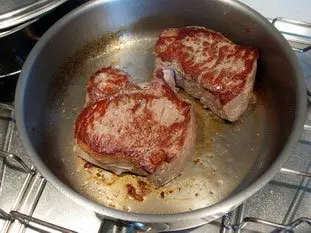 Chefs – yes, them again – use touch to judge how cooked red meat is.
This is not easy for the amateur but, fortunately for us, help is at hand! You can use the same method for red meat, but this time the temperature to watch for depends on how well done you like it:
52°C (126°F) = very rare ("bleu" = "blue" in French)
60°C (140°F) = rare
65°C (149°F) = medium
70°C (158°F) = well done
But these temperatures are very approximate, as for red meat, you need to establish your own scale, according to your own taste.