The blog of cooking-ez.com
Well-cooked meat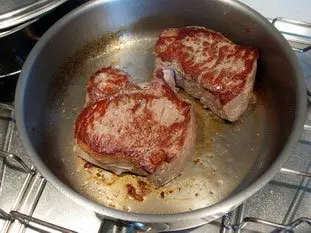 Have you ever noticed that if you like your meat well done, it invites strange looks? For instance, in a restaurant, when asked "How would you like that cooked?" If you reply, "Well done," it is almost as if you are swearing…
Yes, it's true that this might apply less to chains of grill restaurants, but in a traditional French restaurant it happens to me fairly often: he raises an eyebrow with a slightly haughty look and asks, "Well done, well done?" or maybe "Are you sure, sir? It is quality meat," which is a charming way of telling you: "As you appear to be a cro-magnon who is in the wrong era, or at any rate an oaf with no taste, I warn you it'll be like shoe leather."
Of course, it's very tempting to reply curtly at that point, "Well done, which means done well, cooked just right!", but be reasonable, don't go off on the offensive, develop this a little:
My dear sir, it so happens that I prefer my meat well cooked, and I consider that it has a far better flavour (which I enjoy very much) and this – as you should know – is due to
Maillard reactions
(who is neither a footballer, nor a reality TV personality, but a famous French chemist of the 19th century). He brought to light the complex physiochemical reactions which take place during the cooking process and which produce such delicious aromas and tastes.
You will already know, I am sure, that in North America they have a grade of cooking which goes beyond what any French cook would consider "well done", known as "Chicago". Between you and me, I agree that it's a little excessive, yet they probably serve the best steaks in the world, and over there, even in the most basic diner you can eat a perfectly-cooked piece of meat with both taste and tenderness to knock you off your feet.
You are no doubt going to object that "well done meat is tough", and to that I would reply: not at all! My dear sir, you are looking at the issue the wrong way round: if to be tender your meat needs to be half raw, then your butcher is a rogue and is selling you old tyres in place of meat. Either that, or your chef is an ass who hasn't got a clue how to choose meat. If that is the case, and you are the boss, if I were you, I would sack both of them.
If not, I will have: baked potatoes and
Béarnaise sauce
to go with my
well done
meat, and for dessert, a
crème brulée
, thank you.
Last modified on: May 21th 2011
Post a comment or question:
You are welcome, if you wish, to comment on this page: why you like it or not, what you have changed, what results it gave, point out a mistake or omission, etc. You can also ask a question. I answer all questions (in a broken English, sorry) unless someone else does it before me.
Please feel free to say what you think, I'm always very interested in your opinion. Your comment will appear on line with the page, so please write in standard readable English, not SIM or only in CAPITALS, otherwise your comment may be rejected.
Please look at advice for submitting a comment or image (what you should or should not do). By the way, don't type your e-mail address in the comment, otherwise you might be spammed.
Follow this page
If you are interested in this page, you can "follow" it, by entering your email address here. You will then receive a notification immediately each time the page is modified or a new comment is added.