List of recipes using Poppy seeds:
5 recipes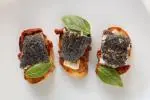 Tasty morsels of red mullet, fried with poppy seeds and served as canapés on toast with feta, basil and preserved tomatoes.
5,435
4.2/5 for 20 ratings 45 min.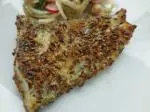 Fish fillets coated with a mixture of breadcrumbs and seeds, then fried.
15,475
4.2/5 for 19 ratings 30 min.

Little crusty bread sticks of Italian origin, these are delicious for aperitifs, plain or with dips like tuna rillettes, guacamole or houmous.
76,341
4.2/5 for 20 ratings 2 hours 30 min.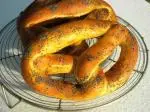 Pretzels are bread sticks looped into a knot, probably with origins in southern Germany. The tops are sprinkled with poppy seeds or grains of coarse salt. Here is a fairly straightforward recipe that is simple to prepare.
25,828
4.9/5 for 19 ratings 5 hours 21 min.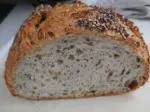 This seeded bread is based on a French baguette dough, with a mix of dry-roasted seeds added (poppy, millet, linseed, sesame...). Delicious on its own, this bread makes excellent toast to go with foie gras, adding an amazing complementary crunch.
10,243
3.8/5 for 17 ratings 4 hours 27 min.