List of recipes using Poppy seeds:
6 recipes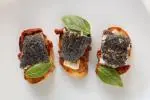 Tasty morsels of red mullet, fried with poppy seeds and served as canapés on toast with feta, basil and preserved tomatoes.
32K
4.2
45 min. July 13
th
2016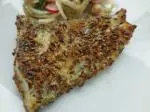 Fish fillets coated with a mixture of breadcrumbs and seeds, then fried.
63K
4.2
30 min. June 1
st
2014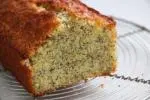 This flavour combination is trending right now - and rightly so. Here, lemon partners poppy seeds in a moist loaf-style cake.
24K
2 1 hour 54 min. November 17
th
2019

Little crusty bread sticks of Italian origin, these are delicious for aperitifs, plain or with dips like tuna rillettes, guacamole or houmous.
237K
4.2
2 hours 30 min. February 21
th
2011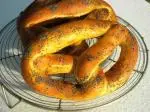 Pretzels are bread sticks looped into a knot, probably with origins in southern Germany. The tops are sprinkled with poppy seeds or grains of coarse salt. Here is a fairly straightforward recipe that is simple to prepare.
111K
4.9
5 hours 21 min. October 24
th
2017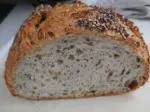 This seeded bread is based on a French baguette dough, with a mix of dry-roasted seeds added (poppy, millet, linseed, sesame...). Delicious on its own, this bread makes excellent toast to go with foie gras, adding an amazing complementary crunch.
104K
3.8
4 hours 27 min. October 24
th
2017