List of recipes using Vanilla ice cream:
6 recipes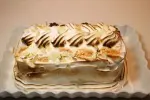 The name may be odd, but Baked Alaska is an elegant dessert. The core of this version is a "sandwich" of vanilla ice cream and blackcurrant sorbet between 2 layers of sponge soaked in rum-flavoured syrup. This is then covered in a layer of meringue and put in a very hot oven for just a few minutes...
6,168
4.3/5 for 12 ratings 6 hours 47 min.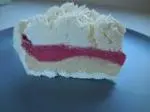 Ice-cream vacherin is a festive French dessert. It consists of two different flavours of ice cream (blackcurrant and vanilla here) sandwiched between two circles of meringue, topped with whorls of Chantilly (whipped cream) which is then frozen. It is not too complicated, but involves a bit of work...
16,066
4.5/5 for 12 ratings 8 hours 45 min.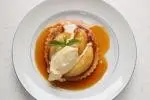 This is an elegant summer dessert: a thin base of puff pastry, topped with caramelized peach slices. For a delicious contrast of hot and cold, serve with the reduced caramel and citrus sauce poured over over hot and, at the last minute, a scoop of vanilla ice cream on top, .
7,431
3.8/5 for 17 ratings 1 hour 15 min.

Peach Melba is a famous dessert created in 1893 by an equally famous chef, Auguste Escoffier, and inspired by the singer Nellie Melba.There have been many versions of this well-known dish but, in principal, it consists of vanilla ice cream, poached peaches, raspberry coulis and sweetened whipped...
29,608
3.9/5 for 20 ratings 2 hours 20 min.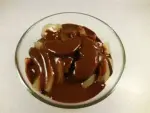 Poire Belle Hélène is a fairly simple cold dessert. The pears are poached in a vanilla-flavoured syrup, then served on top of vanilla ice cream with hot chocolate sauce poured over.
13,564
4.7/5 for 19 ratings 1 hour 46 min.

Small choux pastry puffs, filled with vanilla ice cream and topped with a rich smooth chocolate sauce.
90,995 1
4.5/5 for 2 ratings 1 hour 35 min.