List of recipes using Agar-agar:
5 recipes

(alcohol-free)

Blancmange is a very old dessert recipe, going back to the middle-ages. Updated for our century, it's almond milk with whipped cream and a smooth apricot puree.
104,425
4.4/5 for 8 ratings 3 hours 14 min.

Vanilla-lime, confectioner's custard and blackcurrant coulis, topped with a layer of whipped cream (chantilly) and dusted with a little matcha green tea powder. Light and flavoursome.
57,753
4.9/5 for 19 ratings 1 hour 9 min.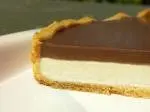 This Bounty-style tart combines, as you might expect, chocolate and coconut in a sweetcrust pastry case.
32,175 1
4/5 for 1 ratings 1 hour 34 min.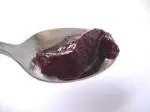 Fruit jelly is jam made with the juice only. All the skin and seeds are strained out, which gives a very smooth texture. Here's a quick recipe which will give you an excellent jelly, and which keeps the full flavour of the blackberries thanks to its very brief cooking.
51,978
4.3/5 for 18 ratings 47 min.

Stewed pears are not as easy to prepare as stewed apples, as they contain more juice and you risk ending up with more of a coulis than a compote. So here are two simple methods to help you succeed.
29,567
4.3/5 for 15 ratings 37 min.