List of recipes using Endives (head of chicory):
4 recipes

(lactose free)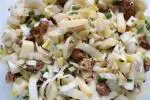 This starts out as a classic salad of shredded endives, but is pepped up with sliced spring onions, fried croutons and chunks of cheese.
2,506 31 min.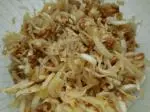 This salad has a double dose of walnut flavour: walnut oil in the vinaigrette and crunchy walnut kernels.
15,596
4.9/5 for 11 ratings 22 min.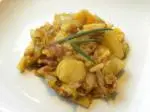 A one-pot endive dish with potatoes, onion and bacon. [Translator's note: the French "bonne femme" style is good, straightforward home cooking (whether the cook is a man or a woman!).
26,703
4.3/5 for 19 ratings 1 hour 23 min.

A very classic recipe, but which can easily fail due to two main errors: too much water in bottom of dish because endives give off a lot, and endives that are too bitter so that children hate it. Here is a method which avoids these two problems.
32,498
3.7/5 for 18 ratings 26 min.