List of recipes using Salmon fillet:
6 recipes
List of recipes using Salmon fillet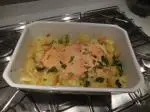 This is a quick recipe for salmon fillet, surrounded by sliced potatoes and baked with lemon juice, olive oil and herbs.
87K
4.6
33 min. March 26
th
2015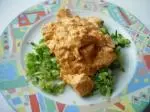 Cooked chopped leek and shallot with cubes of salmon, served in a yogurt, tomato and feta sauce.
157K
5
1 hour 1 min. February 8
th
2020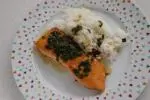 A fillet of salmon can be cooked in a similar way to sole: à la meunière. The fish is lightly floured, pan-fried in butter and served drizzled with lemony butter and flat-leaved parsley. Every bit as good as sole.
17K
25 min. April 11
th
2021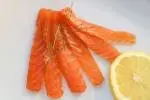 Gravlax is a Nordic speciality and consists of boned salmon dry-cured overnight in salt and sugar. The cured salmon can be eaten like smoked salmon, just with a trickle of lemon juice, or with a light sauce of cream cheese and herbs.
45K
5
12 hours 21 min. July 11
th
2016

A salmon fillet, grilled slowly to keep the inside tender, served with sesame rice and a little corn salad cream. You'll love it...
243K
1
3.9
1 hour 14 min. October 13
th
2010

This is not as simple as it might at first appear. A properly grilled piece of salmon should be crisp on the outside and moist on the inside. This soft interior is achieved by very strict timing (cooking fish just right is a sign of a true chef), as undercooked it is unpleasant, and overcooked the...
425K
4.3
22 min. October 13
th
2010