List of recipes using Salmon fillet:
6 recipes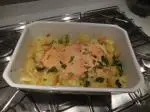 This is a quick recipe for salmon fillet, surrounded by sliced potatoes and baked with lemon juice, olive oil and herbs.
14,326
4.6/5 for 16 ratings 33 min.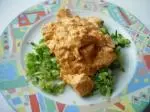 Cooked chopped leek and shallot with cubes of salmon, served in a yogurt, tomato and feta sauce.
50,111
5/5 for 13 ratings 1 hour 1 min.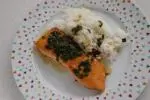 A fillet of salmon can be cooked in a similar way to sole: à la meunière. The fish is lightly floured, pan-fried in butter and served drizzled with lemony butter and flat-leaved parsley. Every bit as good as sole.
470 25 min.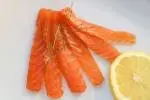 Gravlax is a Nordic speciality and consists of boned salmon dry-cured overnight in salt and sugar. The cured salmon can be eaten like smoked salmon, just with a trickle of lemon juice, or with a light sauce of cream cheese and herbs.
7,566
5/5 for 1 ratings 12 hours 21 min.

A salmon fillet, grilled slowly to keep the inside tender, served with sesame rice and a little corn salad cream. You'll love it...
70,779 1
3.9/5 for 7 ratings 1 hour 14 min.

This is not as simple as it might at first appear. A properly grilled piece of salmon should be crisp on the outside and moist on the inside. This soft interior is achieved by very strict timing (cooking fish just right is a sign of a true chef), as undercooked it is unpleasant, and overcooked the...
17,391
4.3/5 for 15 ratings 22 min.