List of recipes using Whisky:
4 recipes
List of recipes using Whisky

This is a chocolate cream with chopped candied grapefruit peel and caramelized nuts added to give bit of crunch. The small pot of cream is topped with an Irish coffee mousse (flavours of coffee, fresh cream, sugar and whisky).
230K
1
5
59 min. March 11
th
2011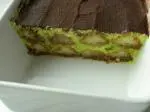 In this slightly unusual tiramisu, the classic Amaretto is partially replaced by whisky, which goes better with the pistachio flavour.
179K
2
5
50 min. June 2
nd
2013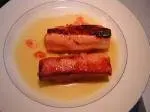 Stewed apples, raisins soaked in whisky, toasted almonds, rolled in a lightly caramelized pancake.
223K
4.3
2 hours 16 min. March 10
th
2015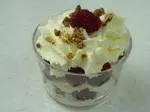 Cranachan is a traditional Scottish dessert made with whipped cream, raspberries, rolled oats and whisky. In this recipe, the oats are made into a nougatine before being incorporated into the cream.
66K
1
4.1
42 min. October 13
th
2013