List of recipes using Kirsch:
4 recipes
List of recipes using Kirsch

Black Forest gateau is a sophisticated dessert which comes from Germany. It is essentially a combination of four flavours: chocolate, cherries, cream and kirsch. Here is my own version.
127K
4.6
2 hours 32 min. November 27
th
2011

A clafoutis batter and cherries lightly cooked in sugar and Kirsch, then de-stoned. The clafoutis is baked in the oven.
113K
4.3
1 hour 17 min. June 19
th
2011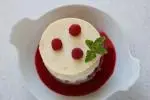 This is a classic French raspberry-flavoured dessert. It generally consists of raspberries in cream sandwiched between two layers of cake. In this version, the cake is genoa sponge and the cream is vanilla-flavoured and mixed with mascarpone. This is just as good made as a large rectangle or, as...
27K
4
2 hours 38 min. July 16
th
2017

The French "griottines" are delicious little wild morello cherries, stoned and macerated in a Kirsch syrup, used here in individual vanilla charlottes.
169K
1
5
4 hours 49 min. February 21
th
2011