How long does it take?
Time required for this recipe:
| Preparation | Cooking | Start to finish |
| --- | --- | --- |
| 33 min. | 44 min. | 1 hour 17 min. |
Keeping:
A few days in the fridge.
At what time?
When will I finish if I start the recipe at a certain time?
When should I start for the recipe to be ready at a certain time?
Work this out...
---
Step by step recipe
---
Stage 1 - 10 min.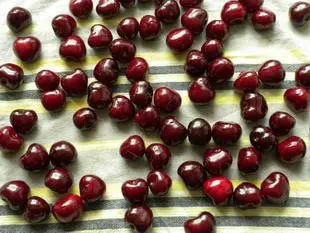 Wash, dry and remove the stalks from 1 kg cherries.
---
Stage 2 - 4 min.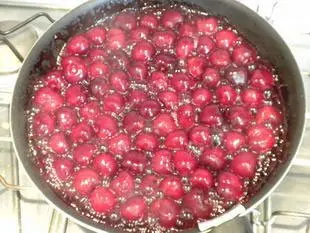 Tip the cherries into a pan on medium heat and sprinkle with 3 tablespoons
caster sugar
, then add 3 tablespoons Kirsch.
Cover and leave to cook for 3 or 4 minutes, stirring regularly, until the cherries are tender.
---
Stage 3 - 5 min.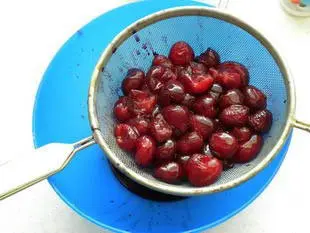 Drain them in a
sieve
and leave to cool.
Note:
The cherry juice will not be used to make the batter; see below for ideas on how to use it.
---
Stage 4 - 5 min.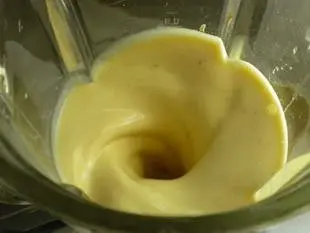 ---
Stage 5 - 10 min.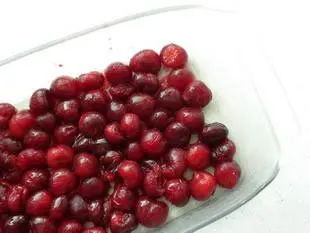 Meanwhile, remove the cherry stones using a small pointed knife, and as they are done, arrange them in a
buttered
gratin dish.
---
Stage 6 - 3 min.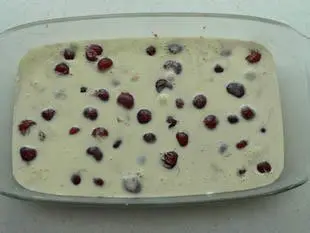 Pour the batter over the cherries, leaving the tops of the cherries just visible.
---
Stage 7 - 40 min.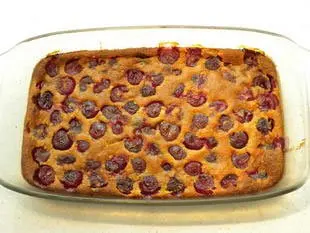 Bake in the oven for around 40 minutes, until the clafoutis is golden brown.

Serve warm or cold.
Remarks
As stated above, the juice that comes out of the cherries during cooking is not added to the batter, but you can reheat this to serve with the clafoutis, leaving your guests to pour it over. You can also add it to whipped cream to make a cherry chantilly.

An interesting variation: leave out half the flour and replace it with chestnut flour or ground almonds.

Cherry stones: should you leave them in or not? I've discussed this at length with Isabelle (my favourite sister) and there's no easy answer. Personally, I hate eating a clafoutis with the stones in - I'm always worried I'll break a tooth. You need to be very careful when eating it!

Untl recently I thought that leaving the stones in improved the flavour, but I ended up trying a clfoutis with stones and one without, and... no noticeable difference.

I think the Kirsch adds the subtle flavour of cherry stones, and this is better than leaving in the stones themselves. If you really want to keep the taste, you can try the following: bring the milk to the boil with the crushed cherry stones. Leave to infuse for 15 minutes, then strain and continue the recipe as normal.
Nutritional information
% are calculated relative to a Recommended Dietary Intake or RDI of 2000 k-calories or 8400 k-joules by day for a woman (change to a man).
How much will it cost?
Note : These prices are only approximate
Source
Home made, and a recipe for Isabelle.
More recipes?
This recipe uses (among others)
| | |
| --- | --- |
| | Cream: You can get more informations, or check-out other recipes which use it, for example: Mushroom Pancakes au Gratin, Coconut-vanilla cream for Elsa , Cheese tart, Chocolate cake, Elsa's Comtoise galette, ... All |
| | Milk: You can get more informations, or check-out other recipes which use it, for example: Potimarron (Japanese chestnut pumpkin) purée, Jam doughnuts, Cornmeal baps for Anne, Chocolate sauce, Pan-baked hash brown (Hash-brown casserole), ... All |
| | Flour: You can get more informations, or check-out other recipes which use it, for example: Gâteau Basque , Arlesian Biscuits, Craquelin (sweet cracker dough), Savoury mini-madeleines with 2 cheeses, Choux pastry (pâte à choux), ... All |
News list of cooking-ez.com
Sign up to receive the latest recipes (next batch due to be sent on 2019-10-27)
Note: We'll never share your email with anyone else.
Follow this recipe
If you are interested in this recipe, you can "follow" it, by entering your email address here. You will then receive a notification immediately each time the recipe is modified or a new comment is added. Please note that you will need to confirm this following.
Note: We'll never share your email with anyone else.