List of recipes using Époisses:
4 recipes

Small crisp parcels filled with cheese and linseeds, hot and crunchy on the outside, melting in the middle. They can be served with a light green salad.
33,168
4.1/5 for 20 ratings 37 min.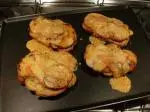 Lightly buttered bread, a slurp of dry white wine, cured ham, sliced potato and a piece of Epoisse. A few minutes in the oven is enough to melt the cheese over the potatoes and crisp up the bread.
51,940 2
4.1/5 for 16 ratings 1 hour 26 min.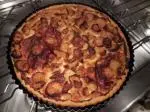 This savoury tart is full of flavour: the thin puff-pastry case is filled with lightly grilled slices of ham and a mixture of cream and Époisses cheese, topped with a layer of oven-cooked shallot confit. This tart can be eated hot, of course, but is also good cold or reheated until just warmed...
6,546
4.6/5 for 14 ratings 2 hours 25 min.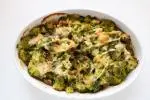 This is a vegetable gratin with a difference: 3 layers of different vegetables (cauliflower, broccoli and aubergine) with two different cheeses for a flavousome topping: Comté and Époisse.
1,903 1 hour 23 min.