List of recipes using Chicken stock:
6 recipes
List of recipes using Chicken stock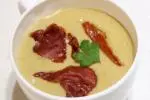 The method for this rustic winter soup is anything but typical: the sprouts are first roasted in the oven, before being mixed with the leeks (pre-cooked with onions) and simmered in chicken stock. Served with morsels of crispy ham, the full-on flavour is sure to hit the mark.
6,251
1 hour 29 min. January 17
th
2021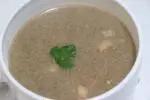 This rustic soup comes from Cornouailles in Brittany – France's very own Cornwall. It is made with fried bacon and onions, and thickened with a little buckwheat flour, typical of the region.
6,078
42 min. May 9
th
2021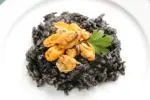 The famous Spanish arroz negro (black rice) is prepared by adding squid ink towards the end of cooking. This gives the rice not only its curious dark colour, but delicious marine flavours. In this recipe it forms the bed for mussels, cooked simply and served out of their shells – a perfect...
16K
1 hour 10 min. January 30
th
2019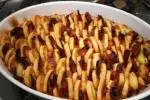 This great classic of French home cooking consists of sliced potatoes with slivers of bacon between, on a bed of onion fondue, moistened with poultry (or beef) stock and baked in the oven. It takes a fairly long time, but is so good, and reheats very well.
13K
2 1 hour 36 min. April 5
th
2020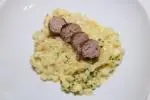 In this recipe, the celeriac is cooked rather like for a risotto: diced small, softened in olive oil with onion, then cooked in chicken stock. The dish is finished with cream and maybe a little cancoillotte (or other creamy cheese). It is delicious on its own or to accompany meat.
39K
48 min. December 30
th
2019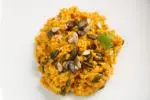 A colourful and tasty risotto made with turmeric, and pumpkin and sunflower seeds.
32K
56 min. May 19
th
2019