List of recipes using Tinned red kidney beans:
4 recipes

(without meat)

List of recipes using Tinned red kidney beans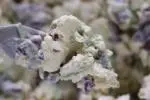 This combination of crunchy (raw cauliflower) and soft textures (red beans and avocado), in a rémoulade dressing with fresh herbs, makes a simple yet delicious salad.
10K
19 min. April 21
th
2021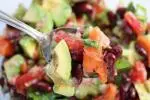 This Mexican-inspired salad combines red kidney beans with avocado, chopped onions and tomatoes. It is dressed with olive oil, lime and a touch of Tabasco heat.
53K
5
28 min. October 9
th
2019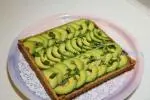 This unusual tart features two star ingredients of South American cuisine: red kidney beans and avocado. The shortcrust pastry case is filled with a red bean and onion purée, then topped with sliced avocado dressed with lime and garnished with fresh coriander.
36K
1 hour 17 min. December 30
th
2019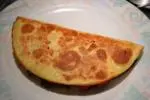 Here's a recipe for tortillas with a simple, pre-cooked vegetable filling, made from Japanese chestnut pumpkin (potimarron), onion and red kidney beans.
8,897
56 min. April 4
th
2021