List of recipes using Cold coffee:
5 recipes
List of recipes using Cold coffee

This is a chocolate cream with chopped candied grapefruit peel and caramelized nuts added to give bit of crunch. The small pot of cream is topped with an Irish coffee mousse (flavours of coffee, fresh cream, sugar and whisky).
230K
1
5
59 min. March 11
th
2011

Here is a simple quick recipe for chocolate mousse. It is just necessary to be careful at the final stage, when mixing the melted chocolate and the beaten egg-whites.
438K
3.7
40 min. February 21
th
2011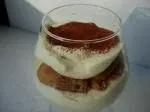 This new version of tiramisu is easier, and in my opinion much better. You will certainly appreciate, like me, the light creamy taste, this time presented in brandy goblets.
335K
3.3
54 min. January 19
th
2015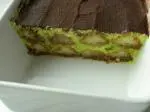 In this slightly unusual tiramisu, the classic Amaretto is partially replaced by whisky, which goes better with the pistachio flavour.
179K
2
5
50 min. June 2
nd
2013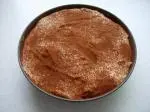 Classic italian recipe (the name means "pull me up" or more poetically, "take me up to the sky"). It's similar to a charlotte in its structure: layers of flavoured biscuits between layers of smooth cream.
445K
5
49 min. July 27
th
2013