List of recipes using Langoustines (scampi):
7 recipes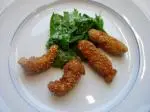 Scampi, coated with a sesame crust, fried quickly, and served with a herb salad.
94,149
5/5 for 1 ratings 33 min.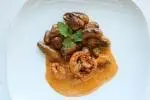 The langoustines in this recipe are cooked in two stages: boiled briefly in salted water, then sautéed before being spiced and flambéed in cognac. They are served here with a creamy sauce and potato grenaille.
4,336
5/5 for 13 ratings 1 hour 9 min.

Small puff pastry cases filled with a layer of chopped leeks, fried langoustines (also known as scampi or Dublin Bay prawns), topped with hollandaise sauce.
25,556
4.2/5 for 11 ratings 1 hour 28 min.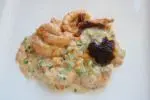 This elegant gratin has a layer of brunoise vegetables in the bottom, with langoustine tails (scampi) cooked in two stages on top, finished with a thick creamy sauce, made with the "fumet" from the langoustines. This recipe is quite long to make, but can be prepared in stages over a number of days....
4,283
3.9/5 for 20 ratings 2 hours 15 min.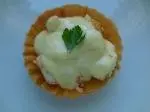 For this recipe, the tart cases are made with sheets of filo pastry. These are filled with langoustines coated in a delicious lime-flavoured sabayon.
11,837
3.8/5 for 10 ratings 1 hour 6 min.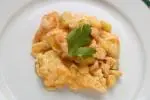 For this dish, the langoustines and asparagus tips are sautéed bafore being mixed with the beaten eggs and finished like scrambled eggs.
380 50 min.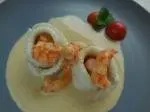 The turban is made from a rolled fillet of sole poached in fish stock. Each turban is then filled with sautéed langoustines and a tasty cream sauce, flavoured with langoustine stock. This dish takes quite a long time to make because of the langoustine stock, but you will really impress your guests.
12,404
4.1/5 for 18 ratings 1 hour 44 min.