List of recipes using Blackcurrant coulis:
4 recipes

If you love the taste of blackcurrants (like Edith), this sorbet is for you...
68,910
4.9/5 for 18 ratings 23 min.

Vanilla-lime, confectioner's custard and blackcurrant coulis, topped with a layer of whipped cream (chantilly) and dusted with a little matcha green tea powder. Light and flavoursome.
57,927
4.9/5 for 19 ratings 1 hour 9 min.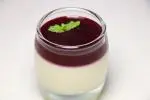 These light and flavoursome lemon creams are "set" by the curdling action of the lemon juice on the heated cream, so no thickening agent is needed. They are served in individual glasses, topped with a layer of fruit coulis (blackcurrant here).
4,531
4.1/5 for 16 ratings 41 min.

This is a glass of pannacotta, with a layer of blackcurrent coulis, and a crunchy almond crumble scatterd on top.
73,813
3.8/5 for 17 ratings 1 hour 22 min.