List of recipes using Green lentils:
5 recipes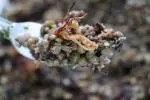 If you have leftover pulled pork, try this recipe to transform it into a delicious, Cajun-style, warm lentil salad.
10K
36 min. December 22
th
2021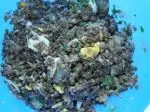 This salad combines lentils, chunks of cooked meat, sliced hard-boiled eggs, shallot and herbs, with a good vinaigrette dressing.
57K
3.8
43 min. December 7
th
2014

Lentils boiled until just tender, then mixed with fried smoked bacon, onion, chives and dressed with a good vinaigrette.
168K
4.6
53 min. September 5
th
2010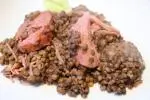 Pork belly with lentils is a typical French bistro dish. In principal, it is a mixture of different cuts of pork, usually salt-cured, cooked slowly until "confit" and meltingly tender, served with lentils cooked in stock. This dish takes a good while to prepare, but it's a real treat! It reheats...
79K
4
3 hours 19 min. November 15
th
2015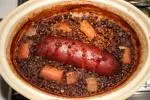 This is a casserole-style version of the traditional French sausage-and-lentils recipe with a special feature: the lentils are cooked in just the right amount of water. The other ingredients add flavour as does, most importantly, the sausage (preferably smoked). When pricked, this will release its...
115K
4.5
1 hour 5 min. February 5
th
2017