Sausage and lentils "en cocotte"
---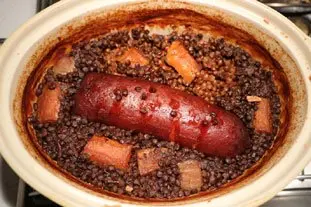 This is a casserole-style version of the traditional French sausage-and-lentils recipe with a special feature: the lentils are cooked in just the right amount of water. The other ingredients add flavour as does, most importantly, the sausage (preferably smoked). When pricked, this will release its full flavour into the lentils during cooking.

Not only will the lentils be perfectly cooked and extra-tasty, thanks to the sausage, they are ideal to serve with the sausage itself.
Last modified on: February 5th 2017
Keywords for this recipe:
Sausage
Smoked
Lentils
En cocotte
Slow cooking