List of recipes using Griottine cherries:
5 recipes

Black Forest gateau is a sophisticated dessert which comes from Germany. It is essentially a combination of four flavours: chocolate, cherries, cream and kirsch. Here is my own version.
32,134
4.6/5 for 11 ratings 2 hours 32 min.

A shortcrust pastry case baked with pistachio cream, then topped with Griottine cherries.
60,690 2
5/5 for 1 ratings 1 hour 20 min.

The French "griottines" are delicious little wild morello cherries, stoned and macerated in a Kirsch syrup, used here in individual vanilla charlottes.
63,593 1
5/5 for 13 ratings 4 hours 49 min.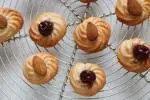 As the name suggests, these are piped into shape using a forcing bag. These dainty little macaroon-like cakes are made with marzipan and have a soft, moist texture.
2,083 1 day 32 min.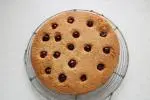 This Galette de Fougerolles is a flattish cake filled with a hazelnut buttercream and topped just before baking with a "craquelin" (sweet cracker) crust, studded with griottine cherries.
1,480 3 hours 21 min.