List of recipes using Toasted flaked almonds:
4 recipes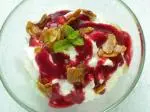 A "coupe Augustin" is a kind of sundae made with mint ice cream, slices of white peach poached in a light syrup, Chantilly cream, raspberry coulis and topped with toasted flaked almonds.
18,473
4.7/5 for 11 ratings 28 min.

You will no doubt be familiar with Bounty, the chocolate-covered coconut bar. Here's a melt-in-the-mouth version "on a plate" for a chic dessert.
43,316
4.6/5 for 19 ratings 1 hour 54 min.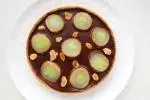 Thick slices of poached pears in a blind-baked sweetcrust pastry case, their centres filled with mint-flavoured confectioner's custard, and surrounded by a chocolate cream, set by baking briefly in the oven. The flavours of pears, chocolate and mint work perfectly together to create a truly...
949 2 hours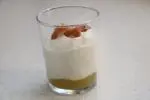 This delicious mousse is the perfect summer dessert: a delicate combination of stewed rhubarb and Italian meringue.
1,536 33 min.