How long does it take?
Time required for this recipe:
| Preparation | Cooking | Start to finish |
| --- | --- | --- |
| 7 min. | 1 hour | 1 hour 7 min. |
Keeping:
Several months in an airtight jar.
At what time?
When will I finish if I start the recipe at a certain time?
When should I start for the recipe to be ready at a certain time?
Work this out...
---
Step by step recipe
---
Stage 1 - 2 min.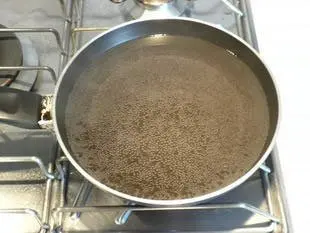 Pour 500 ml sea water into a pan on the lowest heat possible.
---
Stage 2 - 1 hour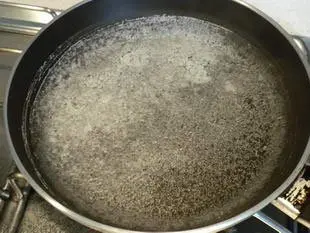 As the water evaporates, crystals of salt will start to appear on the surface...
---
Stage 3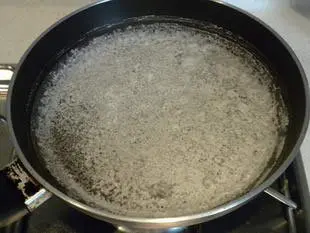 ...until the water has entirely disappeared.
---
Stage 4 - 5 min.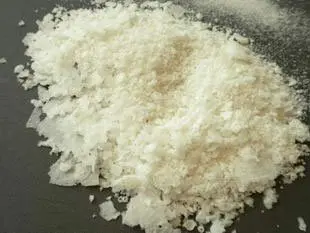 Scrape the bottom of the pan and you will have your "fleur de sel" salt flakes.
Remarks
It's worth noting that all types of salt have the same basic taste (unless of course there is something added). What "fleur se sel" offers is a different texture, rather than taste, and it is for scattering over the top of dishes rather than mixing in, as this adds nothing different from normal salt.
Nutritional information
% are calculated relative to a Recommended Dietary Intake or RDI of 2000 k-calories or 8400 k-joules by day for a woman (change to a man).
Source
Home made, based on a tip by Hervé This.
More recipes?
This recipe uses (among others)
| | |
| --- | --- |
| | Sea water: You can check-out other recipes which use it, like for example: Ocean bread, ... All |
News list of cooking-ez.com
Sign up to receive the latest recipes (next batch due to be sent on 2019-09-22)
Note: We'll never share your email with anyone else.
Follow this recipe (as 5 people already do)
If you are interested in this recipe, you can "follow" it, by entering your email address here. You will then receive a notification immediately each time the recipe is modified or a new comment is added. Please note that you will need to confirm this following.
Note: We'll never share your email with anyone else.