List of recipes using Broad beans:
4 recipes

(lactose free)

A salad that combines crunchy almonds, tender broad beans, with the flavours of balsamic vinegar, parmesan and herbs.
76,984
3.8/5 for 17 ratings 35 min.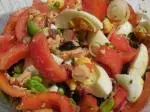 Salade Niçoise is a typical Mediterranean dish that originated around the French city of Nice. As there is no real "official" recipe, everyone has their own personal version. This is mine.
14,572
4.9/5 for 20 ratings 40 min.

This recipe uses boned rabbit. This is sautéed in mustard then cooked in the oven. It is served with broad beans, bacon and mushrooms, and a sauce made with reduced white wine.
42,178
4.9/5 for 20 ratings 2 hours 9 min.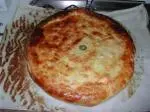 Three layers of vegetables, baked in puff pastry.
67,306
3.9/5 for 20 ratings 1 hour 21 min.