List of recipes using Kiwi:
7 recipes

This "classy restaurant" style dessert consists of a sort of dish made of caramelized brioche filled with a mix of pear compote and kiwi salad with vanilla, served surrounded by real custard (crème anglaise).
28,016 1
5/5 for 1 ratings 45 min.

A little dessert that's rather long to make, but which will always impress your guests. Layered in a glass: a jellied red fruit coulis, a layer of pineapple charlotte cream, a layer of kiwi coulis, topped with a peeled clementine segment. It's "european" because it resembles the italian flag, and in...
72,151
5/5 for 1 ratings 2 hours 29 min.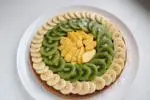 An exotic fruit tart (bananas, kiwi and pineapple), with crisp pastry and almond cream which are cooked beforehand. It's a rather simple recipe, but the final result will impress your guests.
70,263
5/5 for 1 ratings 2 hours 23 min.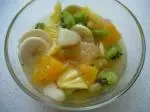 To make a good fruit salad, there are three important points: Choose fruits that go well together (avoid putting soft pears with crunchy apples for example).Remove absolutely all skins and seeds.Bring it all together with a good home made sugar syrup added to the fruit juices.Here is a recipe which...
78,528
4.1/5 for 16 ratings 1 hour 13 min.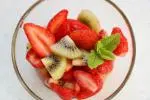 This is a simple recipe, but quite delicious. The flavours and colours of strawberries and kiwis combine to create a refreshing and colourful summer fruit salad.
1,272 17 min.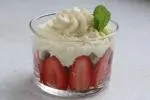 Chopped kiwi with lemon, ripe strawberries and smooth mascarpone cream.
8,187
5/5 for 13 ratings 22 min.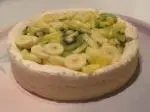 Pavlova is a dessert which originated in New Zealand (or was it Australia?). It consists of a meringue shell filled with a layer of whipped cream and topped with seasonal fruit.
30,137
4.3/5 for 18 ratings 2 hours 34 min.