European glass
---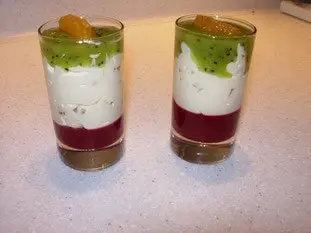 A little dessert that's rather long to make, but which will always impress your guests.

Layered in a glass: a jellied red fruit coulis, a layer of pineapple charlotte cream, a layer of kiwi coulis, topped with a peeled clementine segment.

It's "european" because it resembles the italian flag, and in another version with apricot instead raspberries, the irish flag (a country so dear to me).
Last modified on: August 15th 2010
Keywords for this recipe:
Glass
Verrine
Layers
Tastes
Cream
Coulis