List of recipes using Cured ham:
6 recipes

(gluten free)

These look like perfectly normal boiled eggs, but when the shell is cracked open - surprise! They contain a mixture of scrambled egg, cured ham, fried prawns and chives.
48,501
5/5 for 13 ratings 51 min.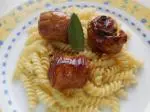 Saltimbocca literally means "jumps into the mouth" in Italian. These delicious little meat rolls, made with veal, ham and sage, will do just that!
10,591
4.9/5 for 20 ratings 40 min.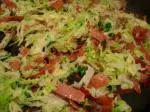 A quick recipe: cabbage julienne cooked English style, pan-fried ribbons of ham, a knob of butter and some parsley, and it's ready.
69,430 3
4.1/5 for 13 ratings 27 min.

Little morsels of boiled and raw cured ham sautéd briefly then mixed with mashed potatoes and finished as a gratin in the oven.
30,432 1
4.6/5 for 14 ratings 47 min.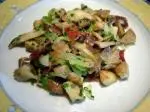 Fresh mushrooms of your choice, cooked just right, thinly sliced spring onions and morsels of cured ham. Straight from the pan to your plate.
68,276 1
5/5 for 1 ratings 49 min.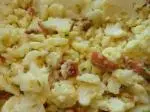 Thin slices of blanched cauliflower, fried strips of cured ham and 3 different types of cheese grated and gently melted to bind everything together.
21,486
5/5 for 19 ratings 50 min.