List of recipes using Strawberries:
5 recipes

(lactose free)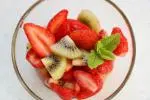 This is a simple recipe, but quite delicious. The flavours and colours of strawberries and kiwis combine to create a refreshing and colourful summer fruit salad.
926 17 min.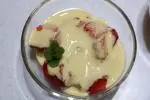 This is a very simple recipe, but the result is absolutely delicious (as long as it's strawberry season, of course): morsels of really ripe strawberries in a sabayon made with sweet white wine.
668 24 min.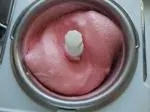 The secret of a good strawberry sorbet is to use first class strawberries, very ripe and full of flavour, so do choose them with care. This recipe shows you how to lighten the texture of the sorbet by incorporating air.
12,510
4.6/5 for 14 ratings 31 min.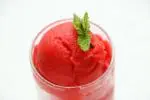 For this strawberry and mint-flavoured sorbet, we will be using an unusual method: blending the strawberries with mint leaves. This mixture is then left overnight for the flavours to mingle before being strained and then churned. This makes a delicious sorbet with its full-on strawberry flavour...
4,858
3.8/5 for 19 ratings 12 hours 26 min.

When using strawberries in a recipe, the usual way is to soak in water, which is actually a very bad idea. Just look at how to preserve them here.
43,323
3/5 for 4 ratings 10 min.