List of recipes using Leavened bread:
7 recipes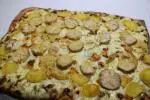 A baker's tart is made with bread dough. It is sometimes called a baker's pizza, but this version has no tomatoes. It is topped with potatoes and slices of herb-poached chicken on a bed of cream and cheese with more herbs.
1,252 1 hour 23 min.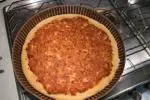 A baker's tart, sometimes called a baker's pizza, is a tart with a base made of bread dough. This version, without tomatoes, combines tuna with mushrooms.
1,219 1 hour 2 min.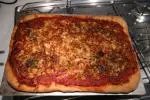 Baker's pizza is very quick to make using a basic bread dough. If you buy the dough ready-made (ask your local baker) and use a good tomato sauce from a jar, you can have it ready for the oven in under 10 minutes.
2,181 38 min.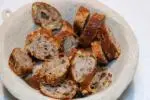 These crusty mini-baguetttes are generously dotted with diced Comté cheese, toasted walnuts and fried bacon bits. They are ideal for slicing and serving as an aperitif snack.
5,725
5/5 for 2 ratings 3 hours 51 min.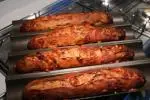 This moist bread is generously flavoured with diced Parmesan, fried onions and mushrooms. In the form of mini-baguetttes (French sticks), it is easy to serve sliced and makes an ideal aperitif snack.
5,164
4/5 for 2 ratings 3 hours 43 min.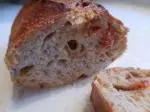 Spring bread is flavoured with little pieces of preserved tomatoes, Parmesan and chive flowers (hence the name, as the flowers only appear for a brief period in spring). Shaped into long loaves or thin sticks, slices of this bread make a delicious aperitif snack.
8,806
4.3/5 for 3 ratings 4 hours 2 min.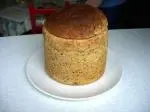 This recipe is for a large surprise bread so you can make six layers (48 small sandwiches if you divide each layer in 8), with three different flavours: smoked salmon/lime, smoked ham/butter, mayonnaise/chicken.
76,639 1
4.5/5 for 8 ratings 6 hours 24 min.