---
Stage 1 - 10 min.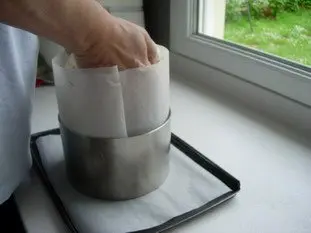 If you are making your own bread, proceed as for the
new leavened bread
or
mixed seed bread
(as in these photos).
Put the dough seam downwards, in a large deep round tin or mould, lined with baking parchment to facilitate turning out (unless you are using a non-stick mould).
The mould in this photo is 20 cm (8") diameter, 12 cm (4.5") high.
---
Stage 2 - 2 hours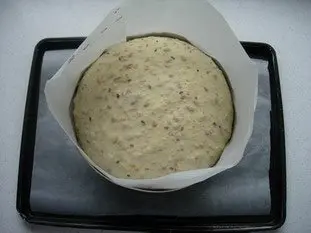 After two hours, when the dough is well risen, bake a little longer than a normal loaf.
---
Stage 3 - 50 min.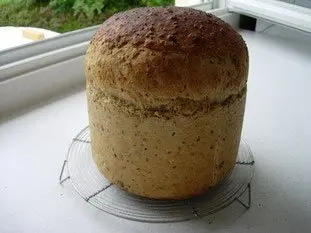 Turn out and leave to cool on a
wire rack
.
The results are better if you use a loaf that's not too fresh, so make it the day before.
---
Stage 4 - 5 min.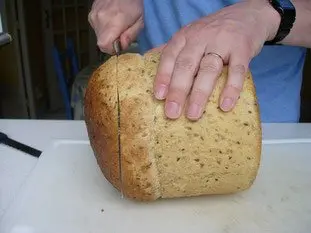 On the day, cut the top off the loaf, just where it becomes rounded, to obtain the smallest possible lid, and the largest straight cylinder possible.
---
Stage 5 - 5 min.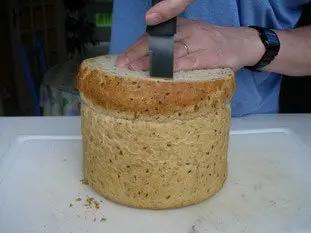 With a bread knife (or other serrated knife - this is important), cut vertcally all around the inside of the loaf. Go round twice if necessry to make sure it's cut through from top to bottom.
---
Stage 6 - 5 min.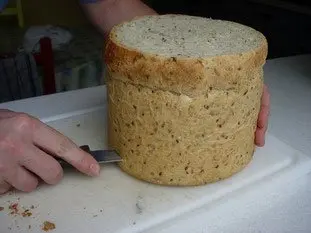 Insert the knife into the base of the loaf and cut using a sweeping, sawing movement.

The aim is to slice off the base horizontally to obtain a "perfect" crumb cylinder.
---
Stage 7 - 10 min.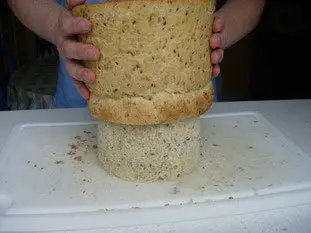 Now comes the tricky moment: extracting the soft cylinder of bread intact from its ring of crust.
It should be fairly easy, if you have cut round well enough beforehand, to turn the loaf upside down and shake it gently.
You can also slip a
metallic spatula
or a pallette knife down the side and make small see-saw movements.
Don't get bad tempered or panic, but go at it gently, carefully, and stay zen...
---
Stage 8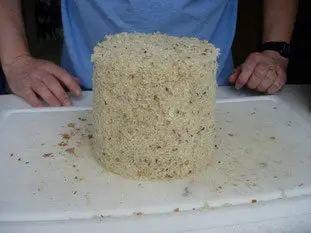 If you succeed and manage this, what follows is only sandwiches!
---
Stage 9 - 3 min.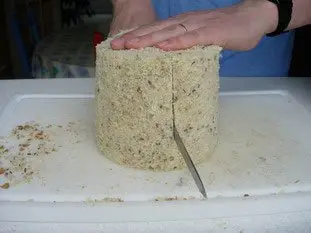 Cut the block of bread in half vertically.
---
Stage 10 - 5 min.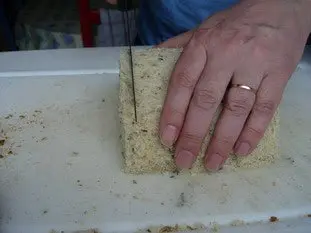 Then slice each half thinly (1/2 cm, 1/4" approx.).

You will need an even number of slices, and keep them in order, because they will be assembled in pairs, and it is much easier if they were cut next to each other with similar size and shape.

Then, begin the fillings:
---
Stage 11 - 5 min.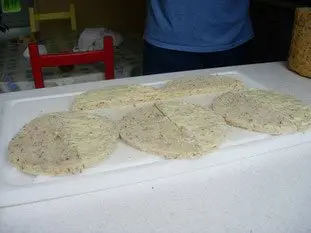 For smoked ham: prepare 3 pairs of ½ slices, and butter one of each pair.
---
Stage 12 - 5 min.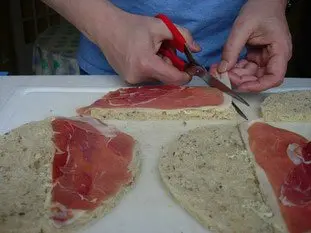 Put a slice of ham on the butter, and trim of any that overhangs the bread with scissors or a very sharp knife (it's easier with scissors ).
---
Stage 13 - 1 min.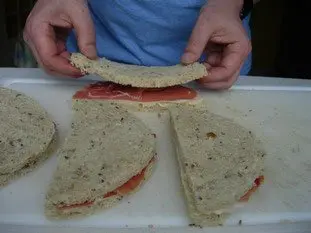 Put the top slices on the sandwiches.
---
Stage 14 - 5 min.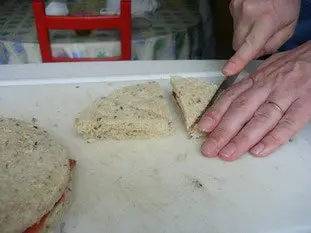 And cut each one into 4.
---
Stage 15 - 5 min.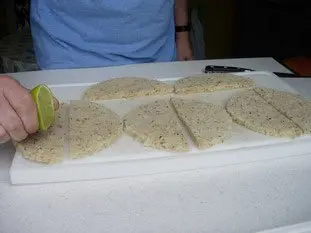 For smoked salmon: prepare 3 pairs of ½ slices, squeeze lime juice one slice of each pair, and butter the other.
---
Stage 16 - 5 min.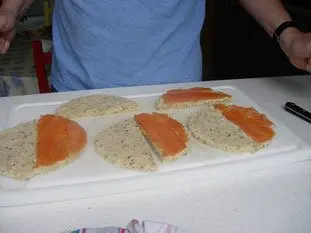 On the butter put a slice of smoked salmon, trim off any extra, and complete the sandwiches, then cut into 4.
---
Stage 17 - 5 min.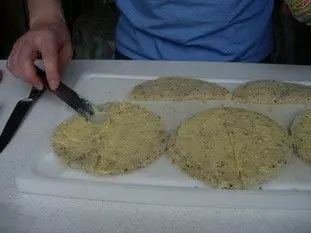 For chicken mayonnaise: prepare 3 pairs of ½ slices, and spread mayonnaise over each one.
---
Stage 18 - 5 min.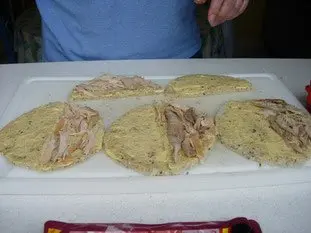 Arrange small pieces of cooked chicken on half, complete the sandwiches, and cut into 4.
---
Stage 19 - 5 min.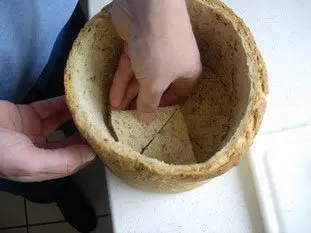 Begin the assembly of the surprise bread by making a layer of 8 sandwiches of one filling.
---
Stage 20 - 5 min.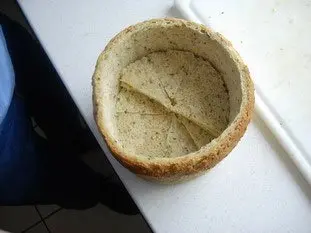 Continue to fill with a different type of sandwich in each layer.
---
Stage 21 - 5 min.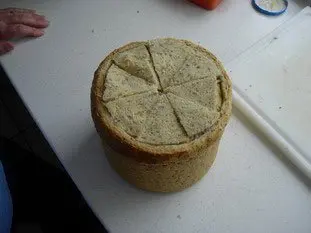 Right to the top of the loaf.
---
Stage 22 - 2 hours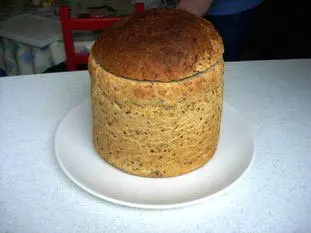 Then add the lid, and refrigerate for a few hours.

Remove and leave at room temperature one hour before serving, so that the sandwiches are not too cold (or they will have less flavour).