List of recipes using Onion fondue:
4 recipes

(without meat)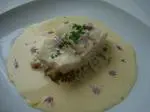 In this recipe the fish is cooked in steam perfumed with rosemary, which makes it tender and aromatic, served on a bed of onions fondue and finished with a dry white wine sauce.
84,905
3.8/5 for 17 ratings 1 hour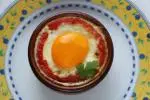 This is a novel way of cooking eggs: in tomato "shells" or egg-cups! For extra flavour, we'll put a spoonful of caramelized onions in the tomato first.
7,487
3.9/5 for 12 ratings 1 hour 3 min.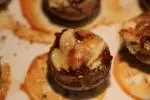 In this recipe, the mushrooms are stuffed with caramelized onions, topped with cheese and cooked in the oven. As mushrooms tend to give off a lot of liquid, especially when very fresh, the cooking is done in two stages.
7,489
4.1/5 for 16 ratings 57 min.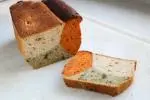 This loaf for "the girls" in three colours is made by putting together three doughs, each with a different flavour: tomato for the red, pesto with olives for the green and onion for the white. The three different doughs fuse as they rise together in the tin before cooking, to produce an unusual...
5,808
4.6/5 for 14 ratings 4 hours 6 min.