List of recipes using Pork loin:
8 recipes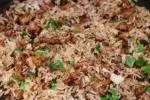 In Cajun cooking, rice dishes with meat, like the famous jambalaya, take pride of place. Here is a simplified version using marinated pork.
2,625 2 hours 27 min.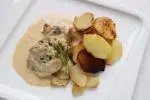 Medallions of filet mignon (pork tenderloin) are first pan-fried, then kept to one side. The same pan is used to prepare a cream sauce with tarragon and strong mustard. The medallions are returned to the pan to finish cooking in the sauce while it thickens on low heat, keeping the meat beautifully...
6,363
3.8/5 for 12 ratings 1 hour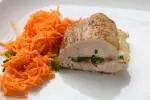 This filet mignon of pork is split, rather like an involtini, and stuffed with grilled bacon, parsley and cheese.
9,695
3.8/5 for 17 ratings 52 min.

Tenderloin of pork stuffed with mustard and parsley, then wrapped in thin slices of bacon and oven roasted.
47,544 1
4.6/5 for 5 ratings 1 hour 28 min.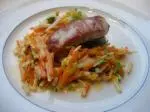 Pork loin is cut into individual portions, which are split and filled with herbs before cooking. They are served with crunchy julienne vegetables and a cream sauce.
93,660
4.2/5 for 19 ratings 2 hours 33 min.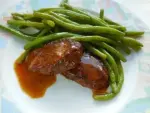 For this recipe with a Mexican flavour (New Mexican, actually), I have used tender medallions of pork fillet mignon. These are first marinated in a spicy oil then pan-fried with the remaining marinade. Serve with green beans and sauce made with a reduced vegetable stock in the frying pan.
7,808
5/5 for 1 ratings 44 min.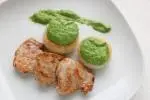 This recipe brings together sautéed medallions of pork filet mignon and turnips, pan-fried then filled with a creamy mixture made from their own green tops. As in all the best cookery, nothing is wasted.
6,799
4.7/5 for 10 ratings 1 hour 4 min.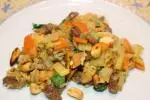 This sautéed pork has a hint of Thai style, with its accompaniment of chopped vegetables, dry-roasted peanuts and soy sauce.
8,037
4/5 for 19 ratings 55 min.